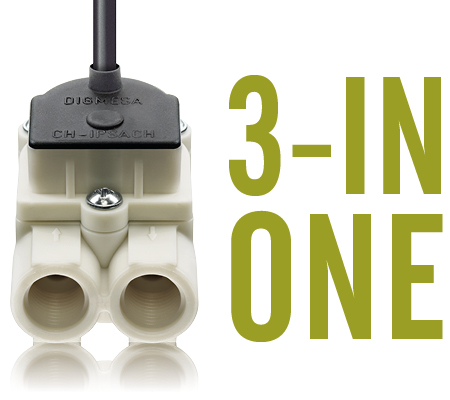 *THE UNIQUE LIQUID SENSING SOLUTION FOR THE WATER FILTER INDUSTRY

Digmesa's new and unique flow rate measurement sensor – the CombiSensor – combines three measurands: conductance, temperature and flow rate.
In recent years, electrical conductivity as a measurand has rapidly developed to become a general quality indicator for water quality. In sectors such as water filters, heating filling or cooling circuits, threshold values are prescribed by law or at least recommended. In addition, the units are becoming ever smaller and electrical conductivity is often needed along with temperature and flow rate for process control. Temperature-compensated conductometry is frequently called for.
Digmesa's response: the CombiSensor.

Digmesa's CombiSensor reduces your price pressure!
The new CombiSensor offers you further rationalisation and simplification of recording and processing measurement values. The benefits for you: more compact units, reduced cable length, lower installation effort and a competitive edge.
To sum up in brief:
3-in-One CombiSensor
Measures electrical conductivity, temperature and flow rate
Electrical conductivity from 0 to 20 mS/cm (temperature-compensated)
Flow rate from 0.04 to 30 l/min
Analog outputs or RS 485 – Modbus; various process connections

Unique and only from Digmesa!

Contact us for a sample (sales@digmesa.com) 
or find out more here.